GoodFirms has interviewed WebSailors' CEO, Denis Benyaminov
May 22, 2023
Incorporated in 2013, WebSailors is a highly professional agency focusing on developing complex web solutions and systems for clients at national and international levels. The organization has its development centers in Europe and Singapore.

WebSailors with years of experience have successfully implemented many projects for global clients in solar energy and information security. In brief, WebSailors, with 7+ years of experience, has built 100+ successful projects at the starting cost of $35 per hour.

Moreover, WebSailors' team comprises middle and senior-level developers rendering robust solutions to the clients, irrespective of their business sizes. The expert group speaks English and has no language barriers. They strive to cater services to clients guaranteeing to meet the deadlines and budgets.

Furthermore, the professional team at WebSailors guarantees the clients to protect their confidential information and has also achieved success in maintaining relationships with clients for the long-run.

"It has invariably been at the core of what we do," CEO Denis Benyaminov of WebSailors, the Russia-born company, tells The GoodFirms team. At the moment of the interview, WebSailors was second amongst the Russian Software Companies listed at GoodFirms. Denis shared his journey and the idea that inspired him to commence the business. He also unveiled the company's flourishing services along with other parameters that enable WebSailors to stand uniquely amongst its competitors.

Starting with the interview, Denis states that he started working as a software professional in 2007, with a degree as the Master of Organization and Technology of Information Security.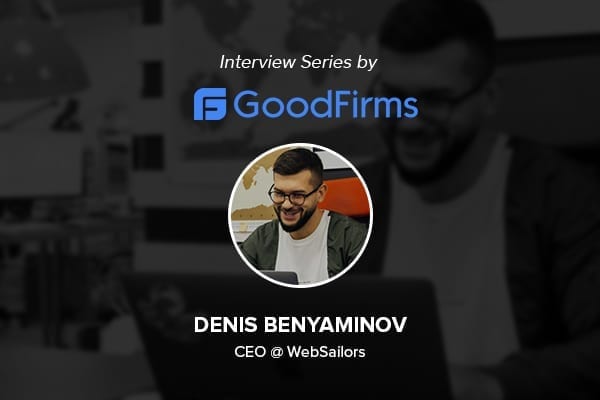 Denis was passionate about learning the Web-development since he studied and started to work as a Software Tester. After a year, Denis began his company naming it as WebSailors. Having years of experience coding thousands of lines, WebSailors has earned a strong reputation as a reliable partner for clients.

Talking about the business model, Denis divulges that WebSailors holds a team of 35 experts on board, including programmers, designers, testers, salespeople, and marketers. "We are all located in a spacious office in Russia. We also have representatives in Singapore, the USA, and the UK," says the CEO of WebSailors.

Explaining more about the business model, Denis mentions that WebSailors' goal is not to involve third-party vendors. The organization strives to expand the internal team while maintaining the quality of product development. To do this, the managers motivate their employees to always learn and improve their level.

Continuing further with the interview, Denis cites the company's most flourishing services and how it differentiates itself from its competitors. WebSailors specialize in web and hybrid development. The experts' team provides a full cycle of services such as software architecture, design, development, testing, and maintenance. The clients come with just an idea or with an ongoing project and in both ways; WebSailors' specialists will effortlessly get engrossed into a project.
Besides this, WebSailors' skilled group holds deep expertise in selected industries like – information security, energy, booking, finance, and others. The in-house team of web developers practices the most modern technologies in programming and design to create practical business solutions. Working as an outsourcing unit, WebSailors' team helps clients save 40-60% of the total cost compared to their in-house team.

WebSailors' main specialization is in delivering offshore web development solutions. The group develops systems of any complexity, from websites to advanced software and applications for automating business systems.

WebSailors caters to industry leaders and startups in the USA, Europe, and Asia markets, acting as their reliable IT vendor for many years. The expert web developers build high-performance websites, online stores with easy navigation and unique design. They believe that a properly designed custom web portal will help clients engage in dialogue with new customers, which ultimately boosts their respective businesses' ROI.

WebSailors' expert developers build systems to develop clients' business, reduce costs, and increase profits. In addition to this, WebSailors holds extensive experience in forming automated, complex progressive web apps. The group develops and integrates solutions into the clients' systems, enabling them to solve their business problems and automate business processes optimally.

Thus, employing the powerful tool for automating clients' business processes with bespoke web solutions endows WebSailors to earn a second position amongst the top web deveelopment companies in Russia at GoodFirms.

The review given by Andrey Shmigol at GoodFirms confirms the quality of web solutions developed at WebSailors.

Denis further elaborates on mobile app development services rendered to clients in different geographies. The expert app developers' team is well-knowledgeable in developing useful apps giving clients maximum benefits.

Clients need not hire multiple programmer teams to develop separate versions of a product to release their mobile app to market as WebSailors professional and trained experts create cross-platform applications that are equally effective on IOS, Android, and Windows keeping their businesses ahead of the competitors.

Based on the feedback WebSailors receive from clients, they value their professionalism, involvement in the project, and responsible attitude. Thus, equipped with such a proficient team of app developers, GoodFirms ranks WebSailors amongst the leading mobile app development companies in Singapore.

The review displayed below showcases the quality of apps developed at WebSailors.

Having read the excerpt from the interview given by Denis, the CEO of WebSailors, one can glance at the detailed interview published at GoodFirms.
About GoodFirms
Washington, D.C. based GoodFirms is an innovative B2B Research and Reviews Company that extensively combs the market to find web development and mobile app development services firms that offer the best services to its customers. GoodFirms' extensive research processes rank the companies, boost their online reputation, and help service seekers pick the right technology partner that meets their business needs.
About the Author
Anna Stark is a staff writer with GoodFirms – a Washington D.C.-based B2B Research Company that bridges the gap between service seekers and service providers. Anna's current role includes gauging companies' performances and their key attributes and putting them into words. She firmly believes in the magic of words and is always on the lookout for new strategies and ideas that companies have gladly embraced, and then helps them shine a light on those to make their identities shine brighter.
Do you have any q
u

estions? Let's discuss your project