GoodFirms wrote the article about WebSailors - One of the Top Web Development Companies
May 17, 2023
WebSailors has mastered the art of developing websites with a singular-focus and goal-oriented approach. Read about the company's description and its various services in detail below.
WebSailors, founded in 2013, is a professional web development firm located in Russia with another office in Singapore. The firm offers web development services, software development, mobile app development, quality assurance, design & development, and other different services. The firm has mastered the art of offering services and applying the best practices to win clients' trust to become reliable solution providers. In their business tenure, WebSailors has completed 100+ projects and worked for multiple niches.
The firm consists of a highly professional team that is focused intensely on developing solutions. In addition to that, highly effective developers successfully implement the right technology. The firm has now delivered services to many startups, Microsoft partners, and companies from U.S. government programs.
WebSailors holds expertise in other skills that include JavaScript, React.JS, Electron, Python2.x/ Python 3.x, Angular J.S./ Angular 2+, and various others.
WebSailors is also featured on such rankings as DesignRush where can you compare over 9,000 top agencies by categories, locations, expertise, clients & reviews. You can find WebSailors on the Enterprise Software Development Companies page.
GoodFirms Research Process
GoodFirms is a Washington D.C.-based research and review portal that ranks and registers companies on three critical attributes of Quality, Reliability, and Ability. The profound GoodFirms researchers did extensive research based on these parameters and observed they have been delivering exceptional website development services.

GoodFirms evaluated WebSailors on the same parameters and found that they have been delivering outstanding solutions to various clients.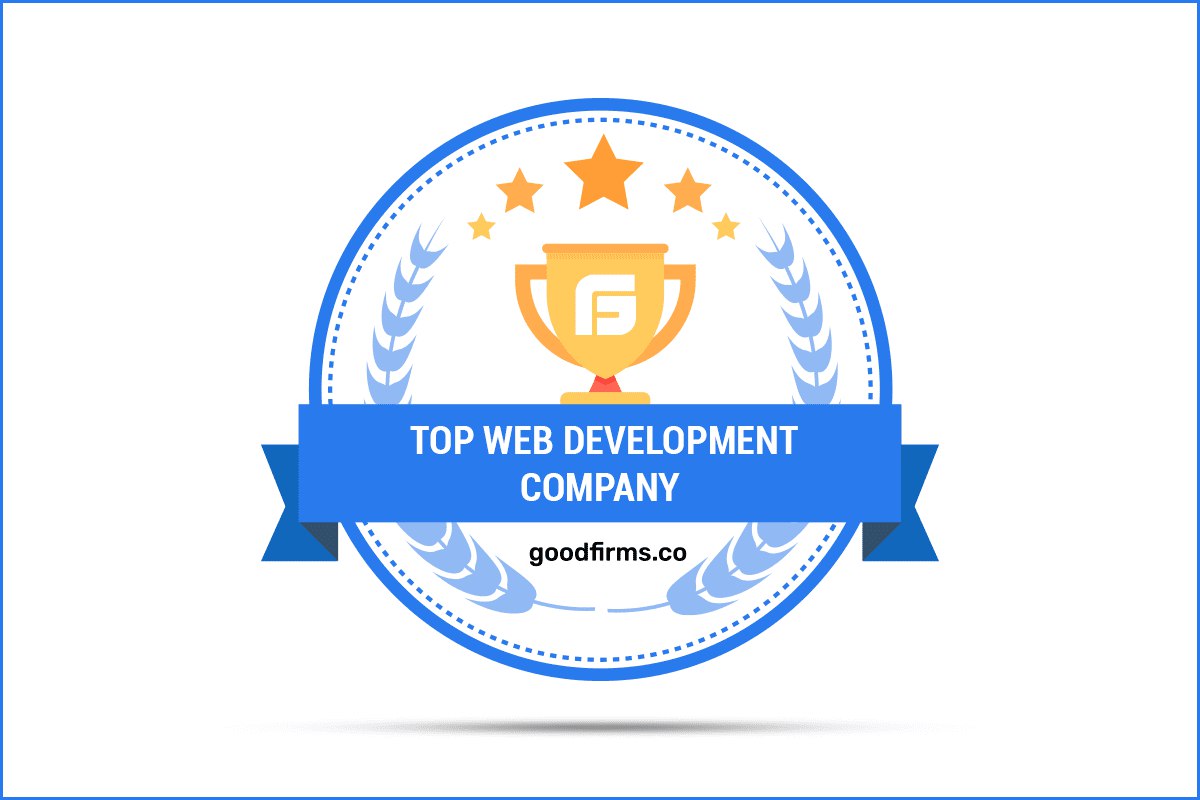 Web Development Services
WebSailors use effective and latest technologies to develop a website that resonates with the brand's identity. The latest technologies and modern approach to effectively offer website services. The company holds specialization in providing offshore web development services because, as per the company, outsourcing saves approximately 40-60% of the total cost compared to the work done by the in- house team.

WebSailors serves clients belonging to various industry leaders and startups in the USA, Europe, and Asia markets. With advanced solutions and adaptability to the latest running trends, the firm creates next-generation solutions. Plus, adaptability, reliability, unique design, client-focus, necessary integration, and free consultation are some of the benefits the clients can achieve by partnering with WebSailors. By catering to industries like healthcare, airlines, finance, the firm works with strict adherence to clients' business goals and mission. Thus, for ensuring a high- performance website, WebSailors grabs a position amongst the top web development companies in Russia at GoodFirms.
Software Development
WebSailors has been offering offshore custom software development and increasing the profitability and efficiency of the business. The firm follows the latest trends and practices prevailing in the market to provide the best and valuable software development services. Aligned with the clients' business goals and mission, the firm brings together expertise and professionalism to deliver software development to various clients.

The below review is by Gene Migirov. A happy customer who gave WebSailors a 5- star rating for their software development services.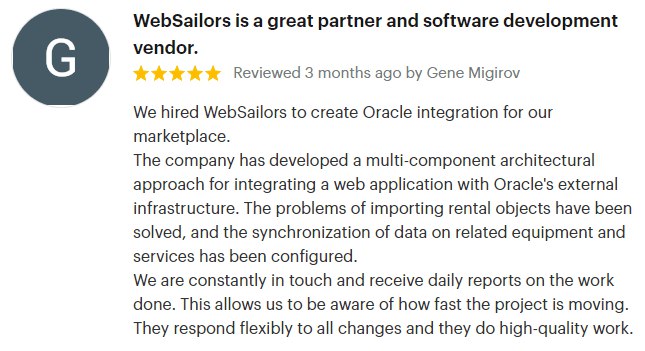 With a suitable technology stack and proper integration knowledge, the firm develops scalable software development. With a flexible approach and a professional team, the firm offers solutions with adherence to budget and deadline. Plus, WebSailors held regular meetings with clients to receive feedback and ensure the delivery of high-quality services. Thus, for being an independent, professional, and expert software outsourcing firm, WebSailors earns a place as one of the top software development companies in Singapore at GoodFirms.
Mobile App Development
WebSailors has successfully completed 100 projects in this arena as a result of growing emerging trends and increased demand for mobile apps. The firm delivers feature-rich mobile app development services that are a direct link between customer and business. WebSailors creates cross-platform apps for Android, IOS, and Windows by leveraging the team's knowledge and expertise.

Promising a responsive mobile app, the expert app developers implement such strategies that revolve around performance and integration, speedy marketing, interactive design, and reduced product cost. With these benefits and on-time delivery of services, as a trusted mobile app development company, WebSailors strives to create an interactive mobile app. By leveraging cutting-edge technology and helping clients to be ahead of the competition, WebSailors grabs a position as one of the top mobile app development companies in Russia at GoodFirms.
About GoodFirms
Washington, D.C. based GoodFirms is an innovative B2B Research and Reviews Company that extensively combs the market to find top Web Development, Software Development, and Mobile App Development Services firms that offer the best services to its customers. GoodFirms' extensive research processes help rank the companies, boost their online reputation and help service seekers pick the right technology partner that meets their business needs.
About the Author
Anna Stark is a staff writer with GoodFirms – a Washington D.C.-based B2B Research Company that bridges the gap between service seekers and service providers. Anna's current role includes gauging companies' performances and their key attributes and putting them into words. She firmly believes in the magic of words and is always on the lookout for new strategies and ideas that companies have gladly embraced, and then helps them shine a light on those to make their identities shine brighter.
Do you have any q
u

estions? Let's discuss your project